Home | About us | Contact us | Paving & walling | Ponds & timber work | Gallery | What our customers think
Thrive Landscapes are able to supply and lay a large range of paving products, from concrete reproduction slabs and Circle kits to a large range of natural stones including new and reclaimed York and Purbeck, and the very popular Natural Sandstone, now available in an "Antiqued" form for an instant aged look.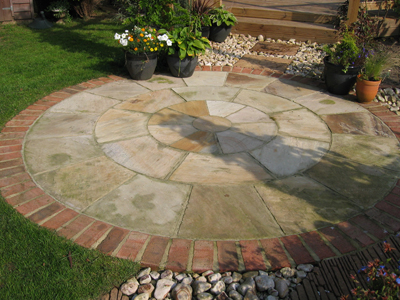 We are also able to help with walls, whether simple raised planters or large retaining walls. Natural stone, both new and reclaimed, are familiar products, as well as brick, rendered blockwork, or even Railway sleepers! We have constructed several large stone retaining walls, incorporating planting pockets in the wall to break the harshness, which has proved to be a great success.